You can include information from multiple boards into your document using mirror columns. The Word template "Cost estimate template.docx" used for the example below is attached at the bottom of this page.

Note special considerations related to mirror columns at the end of this article.
For example, let's say you have a "Clients" board containing client details:

And let's say you also have a "Quotes" board where you prepare cost estimates for your clients: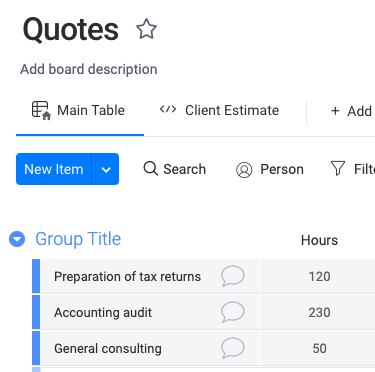 You would like to generate documents that combine information from both the Quotes board (service, amount, etc.) and the Clients board (client name, address, etc.)
In order to do so, you need to add a Connect Boards Column ("Client") to your Quotes board and connect it to the Clients board:

Then you can add Mirror columns to bring the necessary information (client address, contractual rate, etc.) from the Clients board to the Quotes board -- you can even add formula columns that use information from the mirror columns, such as "Amount" here being the product of Hours and Rate (which comes from the Clients board):

Once you've completed the above, you're ready to add a DocuGen view to your Quotes board and upload the template attached to this page.
In order to generate documents, you will need to create a button integration in order to generate documents easily.
Special considerations related to mirror columns
Mirror columns pointing to formula columns will not populate correctly in your document. Make sure you don't include mirror columns that are pointing to formula columns.

As a workaround, you may consider mirroring the input columns from the source board and calculating the formula on the destination column. For example, say you have Board S (the source) containing column Price and column Discount. Add corresponding mirror columns (M_Price and M_Discount) on Board D (the destination) and also add on Board D formula column = M_Price x (1 - M_Discount).


Mirror columns that combine multiple items will display as a comma-separated list in your document. If your Connect Boards Column is pointing to multiple items (on one or multiple source boards), monday.com allows you to display an aggregate value (sum, average, etc.) on the Mirror Column. For example, if the selected items are $10, $12, and $17, monday.com can just display $13 in the Mirror Column (the average of the three numbers.) However, if you generate a document containing the Mirror Column, DocuGen will show the content of the column as a list of values separated by commas, in this example "10, 12, 17".

Unfortunately there is currently no workaround for this limitation, but we're working on fixing it in a future release.