You can insert tables in your documents using one of two ways:
When you generate a document without specifying a template in the DocuGen Settings
OR
When you use a template that contains a tabular placeholder
In all cases, please bear in mind the following considerations related to tables.
Styling tables
DocuGen allows you to format the generated tables in many ways, including column widths. Check out this article for more details.
Row order
When you generate a document containing a table of items or subitems, the table rows will be in the same order as your board items (or subitems) were created. If you rearrange the items/subitems on your board, the generated table in your document will not be rearranged accordingly; instead, it will continue to display rows in the order they were created in your board.
This is a limitation we are working on resolving.
Placement of placeholder
Don't insert the following placeholders placeholders inside a table, text box, or drawing as it may cause unexpected results:
<<table>>
<<table_start>>
<<subitems>>
<<subitems_start>>
These placeholders must be the only content of the paragraph where they are located in your Word template. If you insert the table placeholders inline with other text, the other text will be removed when the document is generated.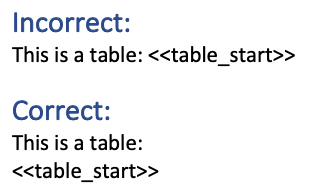 Number of subitems
Subitems are limited to no more than 25 rows. If your item has more than 25 subitems, only the first 25 subitems (by creation date) will be included in the document.